Why Use Winter Tires?
December 23 2016, Belleville Toyota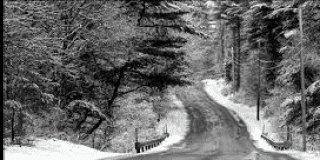 Regular all season tires lose elasticity when the temperature drops below 7°C/45°F. Winter tires are made with a special compound that allows them to retain more elasticity when the temperature becomes cold. The technologically engineered tread is designed to prevent snow build-up and improve ice and snow traction. Winter tires provide better control for any vehicle. Without winter tires the possibility to fishtail or spin out on black ice is higher.
It's commonly misconstrued that you should put snow tires just on your vehicles drive tires. When you use dissimilar tires on a vehicle you will find that your vehicles overall performance and handling will decline. Mixing tires with different tread patterns, internal construction and size lowers the stability of your vehicle and should be avoided. Having different tires at the front and back end of your vehicle will cause both ends of the vehicle won't react differently. This happens especially in emergency situations, you will find that your vehicle may under steer in one condition and over steer in another.
The feel and sound of your car will change once you have installed your new winter tires onto your vehicle. Winter tires are designed to provide more traction on snow and ice, which cause the tire to have different tread patterns and handling. Make sure after you have installed the new tires that you take some time to get a feel for your vehicles new traction and handling- there is more flexibility. Snow tires give your vehicle greater traction that may make your tires feel less responsive in handling- this is not the case. The tires are constructed from several layers of rubber, steel and fabric that require a break in period before they reach their maximum performance. To give these components time to fully integrate, for your first few hundred kilometers avoid any aggressive driving.
You may only need one set of wheels for your vehicle, purchasing separate wheels for your winter tires is be a smart, economical choice that makes switching seasons safe for the winter driving to come.